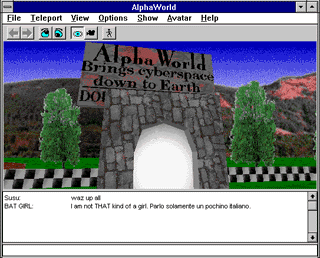 "AlphaWorld immigration
Congratulations! You are just moments away from becoming a citizen of AlphaWorld. If are still displaying the start up screen for AlphaWorld, you can now input your immigration number.
YOUR IMMIGRATION NUMBER IS 245851987
If you aren't running AlphaWorld, start up AlphaWorld and input your immigration number listed above. Note: Your immigration number is NOT your password. If you have any questions about using AlphaWorld, please select 'help' from the AlphaWorld menu bar once you have entered. If this message is in error, and you have not asked to become a citizen of AlphaWorld, please reply to this message stating this fact. For further information about AlphaWorld, please visit our web site at:
http://www.worlds.net/alphaworld"